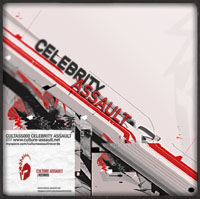 Celebrity Assault is all about remixing known tunes! This FREECULTASS Release features Remixes of Gorillaz, Coldplay, Peaches and many more! GET IT NOW! FREE DOWNLOAD
We have made this CULTASS Release free to share our view on music with you in a non comercial way. Check the playlist and download this fine piece of tunage now!
DOWNLOAD CULTASS000 - CELEBRITY ASSAULT for free!!!
Artist: Reanix, Corax, Shem, Grid

Title: Celebrity Assault
Cataloge nr.: CULTASS000
Style: Drum&Bass
Release Date: 13-May-2009
Quality: 320kbps / 44100Hz / Joint Stereo
Tracks: 6 ~102 Mb
01. Reanix - Medals
02. Corax & Shem - The Scientist
03. Shem - Block Rockin Beats
04. Grid - Fuck Peaches
05. Reanix - Iambic
06. Corax & Shem - The Scientist (Shem VIP)