Once again CULTURE ASSAULT RECORDS hits you up with their brand new FREECULTASS005 Domination EP by two newcomers from Russia called Terror[east] and TRN18. Be prepared for sickness that has never been that hard and destroying! Those two free tunes will pick your feed from the ground and threw you on top of the dance floor! Heads will be forced to bang like back in the days when we were freaking out to good old metal music!
Read more...
FREECULTASS004: Hell yeah to all out there freezing your ass off as it is getting steadily more and more winterly, at least here in the mountains of South Tyrol. Once again the dark days win over the long sunfilled. Awww, best time for staying at home and enjoying some filthy sound. You share our opinion don't you?
Read more...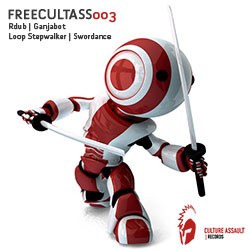 FREECULTASS003: Culture Assault Recs dubstep division delivers another free release! is here!. Once again we offer you free downloads for your listening pleasure.
Rdub's track is nothing short of an industrial-spiced heavy roller which will lift your feet off the ground the moment you hear it. Reggae samples mixed with fuzzy basslines with metalllic hits
and atmospheric bleeps certainly do the job.
Read more...
FREECULTASS002 is here!. Once again we offer you free downloads for your listening pleasure. This time it's two tracks: Sido's hands on Scooter - Beweg Dein Arsch (Shem Remix) & Darkbasser - Still Dead VIP.
Read more...
Guess who showed up this lovely friday afternoon while I was to make my brain bleed listening to the Filthcast004?!! Yeah, you got it right. It's the first one of more to come FREECULTASS download releases you'll find exclusively for free on culture-assault.net for all the registered users.
Read more...
<< Start < Prev 1

2

Next

>

End

>>


Page 2 of 2